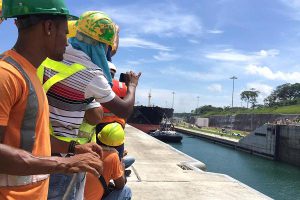 A century after transforming global trade and markets, the Panama Canal is about to revamp world trade once again. On June 26 the canal is scheduled to reopen after a massive project costing more than $5 billion that will allow bigger ships to pass through the 102-year-old waterway, doubling cargo capacity.
U.S.-based businesses are recognizing the new growth opportunities. Many logistics experts predict the expansion of the so-called Panamex may shift international trade routes, allowing ships to reach Asia from the U.S. Gulf Coast more than two weeks faster than going east through the Suez Canal.
In anticipation, companies have transformed their infrastructure and increased foreign operations. According to the Bank of America Merrill Lynch 2016 CFO Outlook, 61 percent of companies report they will have some foreign market involvement this year, with 48 percent buying from foreign markets, 41 percent selling to foreign markets and 21 percent having operations outside the United States.
Companies must understand that the Panama Canal will affect more than the speed of shipments from city to region, to West to East coasts or across the globe. Whether it's a major Florida port, a small transportation company or a perishable-cargo handling company, businesses should buckle up for the significant changes that will come with the new and improved Panama Canal.
There will be a key logistical shift to the eastern United States.
According to the U.S. Department of Commerce, there could be a 10 percent shift in containers traveling into the United States from the West Coast to East Coast ports. Beyond analyzing the expansion of ports that will accommodate this influx of containers, businesses must have a pulse on the intermodal system as a whole. This includes moving discretionary cargo throughout the Eastern regions of the United States, ensuring the right cranes and upgraded equipment are available and enlisting more stevedores and securing warehouse space to handle a larger quantity of containers.
From a local level, the largest ports throughout Florida — from the Port of Miami and Port Everglades to the Port of Jacksonville and Port Tampa Bay — are geared up for this expansion. Companies in these regions should establish efficient intermodal logistics centers that create a seamless process of moving containers from the ship to other modes of transportation in order to push the company's product throughout the United States.