Railroads are fantastic businesses: their scale is hard to match, new companies can't just build new railroads, trucking goods is almost 4x as expensive as shipping by rail, and they throw off a fantastic amount of free cash flow. Unfortunately, it is a cyclical business and earnings can fluctuate quite a good amount, especially when energy related markets take a downturn. CSX (NASDAQ:CSX) is no exception. Take a look at how the stock has performed this year: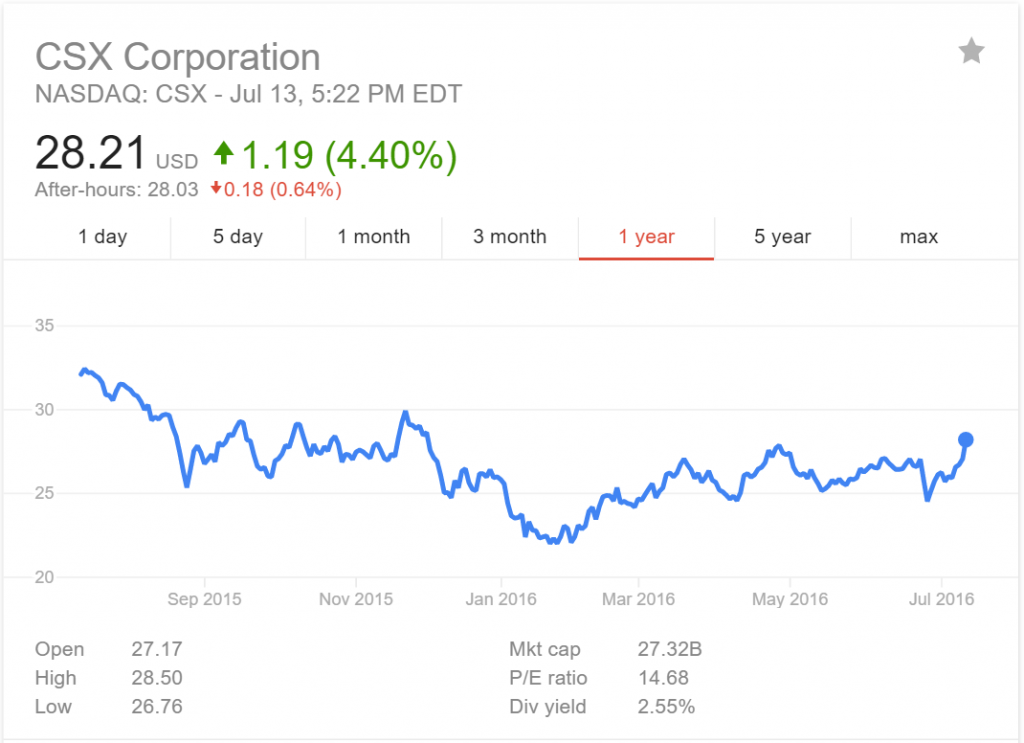 After going as low as $22 a share in February, the stock is already back up to $29 within six months, thanks to a rebound in the energy markets, and better than expected earnings.
Q2 Earnings
Earnings per share of $0.47 and an operating ratio of 68.9%
Revenue declined 12%, driven primarily by an overall 9% volume decline caused by weaker energy markets, specifically coal, which had declines of more than 30%
Expenses improved 9% in the quarter, driven by efficiency gains of $96 million, lower volume-related costs of $86 million, and $56 million from reduced fuel prices.
2016 earnings guidance is still expected to be lower year over year because of the decline in the energy markets
The Good
So far it looks like we might have a recovery in the energy markets, which is bound to help CSX. More importantly, coal prices have begun to rebound, which could spur production increases, benefiting CSX. If it all comes together, CSX could have some nice tailwinds behind it. CSX has done as good job of managing costs as well, lowering costs by 9%, vs a revenue decline of 12% in the quarter.
As of July 1, CSX is also bound to benefit from the widening of the Panama Canal. CSX has access to a variety of ports on the East Coast which are bound to face increased volumes from the port widening. While it's still early to tell, it could prove to be a major short term catalyst.
The Bad
The issue with the stock now, is that the market seems to have baked in all the potential tailwinds into the share price. At $29 a share, CSX is trading close to 15x earnings, based on 2015 numbers, and close to 17x earnings if you annualize what they've done for 2016 so far. Is it expensive? No, but it's not exactly cheap either.
Even with the energy market improving, there's still always the threat of commodity prices crashing. It's still too early to tell if the recent spike in commodity prices will be short-lived. If so, it wouldn't surprise me if CSX took another leg down below $25. Even for the third quarter, sentiment still looks negative: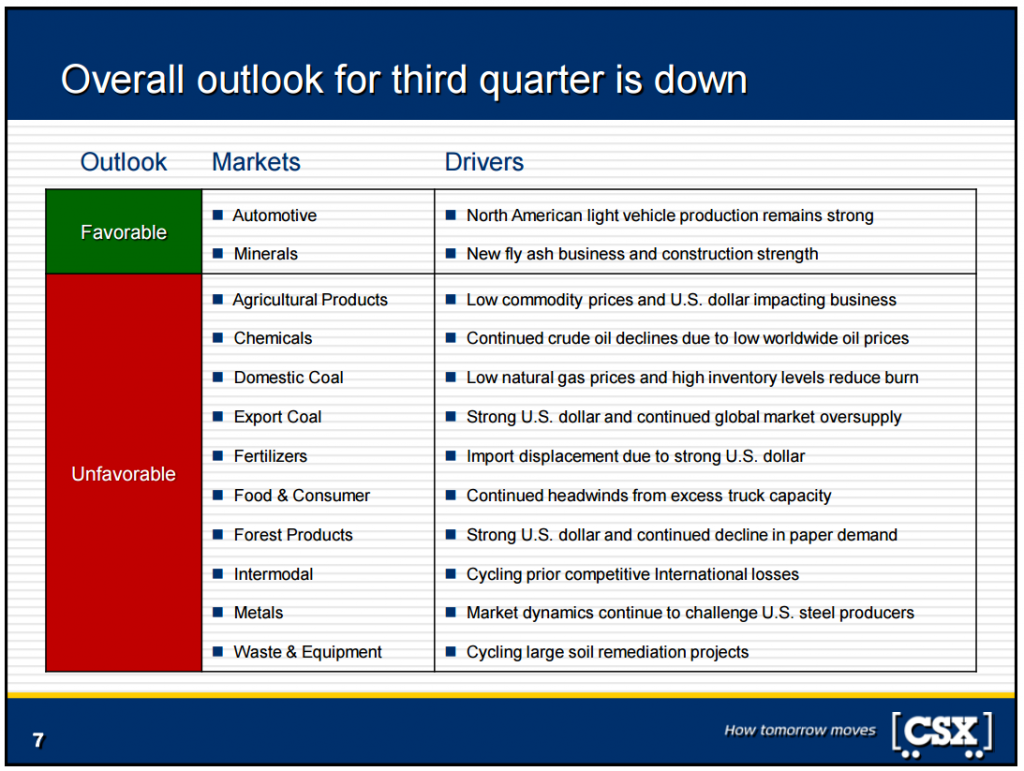 Summing It Up
As much as I love CSX, it's hard to say the stock is cheap, even with improving conditions. While there are plenty of potential tailwinds in place, you're better off waiting for hiccup in the market before taking another look. If it drops back below $24, then it could get interesting.
Disclosure:I/we have no positions in any stocks mentioned, and no plans to initiate any positions within the next 72 hours.