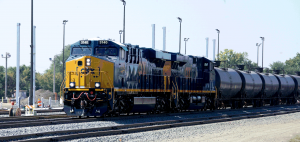 The CSX  rail company, hard hit by a sharp decline in coal transport, said it currently moves about 70,000 barrels of crude oil per day, mostly between the Bakken region and terminals in New York and Pennsylvania. 
"It makes up a small part of our business, about 1 percent, but we do think there's an opportunity to grow it quite significantly over the next couple years," Fredrik Eliasson, chief financial officer of the Jacksonville, Florida-based company, told Reuters on the sidelines of a conference outside of Boston.
"We probably have room to take up to six or seven trains a day – right now it is about one train a day that we're moving," Eliasson said, adding each train typically carries about 70,000 barrels in 100 tankers.
Shipments of crude on railways have surged over the past two years, as production of light sweet oil from the Bakken surged. With little refining capacity nearby to process the crude, oil companies turned to rail to gain quick access to refining hubs on the Gulf Coast as well as the East and West Coasts.
Eliasson said, the company saw little competition from new crude oil pipeline projects, which mostly focus on moving oil to refineries in the Gulf Coast, and said a new effort by TransCanada Corp to move Western Canadian crude oil to Canada's eastern seaboard was also not a threat.
"Most of the Canadian oil is much heavier. With the exception of one or two refineries in the Northeast, they all take light sweet. So we don't think that will make a big difference for us," he said.
The American Association of Railroads said more than 861,000 barrels per day – more than a 10th of U.S. output of 7.61 million bpd – moved by rail in the second quarter this year.
CSX crude oil site: https://www.csxcrudebyrail.com/
crude  by rail safety facts AAR: httpss://www.aar.org/todays-railroads/what-we-haul/crude-oil-by-rail