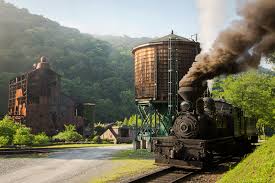 Summer in West Virginia brings a kaleidoscope of color to the mountains. The "Mountain State", known for its blazing autumn canvas, displays as much color and beauty all summer long.
Crystal clear, bubbling streams cascade down the mountains, dropping over waterfalls of varying depths, to pools alive with native trout. Mountainsides shimmer with the myriad forest greens of summer. The entire landscape is a pure, wondrous delight!
There is no better way to enjoy the West Virginia mountains of Randolph and Pocahontas counties than from a warm and comfortable seat on the New Tygart Flyer, one of several Mountain Rail Adventures offered by the Durbin & Greenbrier Valley Railroad. This rail excursion company operates historic steam-driven locomotives and vintage diesel-powered passenger trains that depart the three historic depots of Elkins, Durbin and Cass – April through December. Most Mountain Rail excursions include on-board food service options.
Mountain Rail Adventure excursions explore the more remote regions of the mountains where even automobiles cannot access! Trips range from day-long excursions into the Monongahela National Forest to shorter sight-seeing trips along the banks of the Greenbrier, Tygarts Valley and Shaver's Fork rivers. From Cass, consider the two hour Whittaker trip in mid-May on historic cars pulled by the mighty steam-powered Shays, or an excursion to the top of West Virginia's third highest peak – Bald Knob.
Learn more by visiting