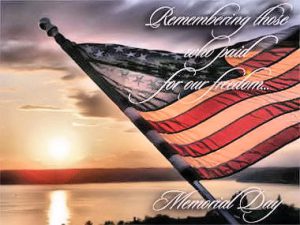 According to Arlington, Memorial Day began in the aftermath of the Civil War when families from both sides laid flowers on the graves of those lost in the war. It was initially known as "Decoration Day."
The national observance of Memorial Day began when Maj. Gen. John A. Logan, then leader of the Grand Army of the Republic, a fraternal organization for Union veterans, designated May 30, 1868 for the celebration of Decoration Day.
The remembrance quickly evolved from just a day honoring fallen Civil War veterans to a day honoring every American who gave the ultimate sacrifice for their country. With the meaning change came a name change. People began referring to the holiday as "Memorial Day" by the late 19th Century.
For decades, Memorial Day continued to be observed on May 30, the date Logan had selected for the first Decoration Day. But, in 1968 Congress passed the Uniform Monday Holiday Act, which established Memorial Day as the last Monday in May in order to create a three-day weekend for federal employees; the change went into effect in 1971. The same law also declared Memorial Day a federal holiday.
Cities and towns across the United States host Memorial Day parades each year, often incorporating military personnel and members of veterans' organizations. Some of the largest parades take place in Chicago, New York and Washington, D.C. One of the longest running in the Tri-State area is held in Ironton, Ohio. The Memorial Day parade will run for the 150th time this Monday.
On this Memorial Day; take time to honor those who have sacrificed so much for the love of their country.