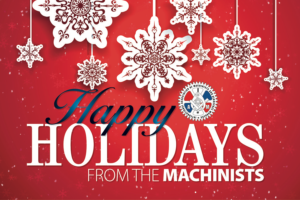 On behalf of the IAM Local Lodge 104, I would like to wish our entire Machinist family a safe, healthy, and happy holiday season.
This has been a challenging year for each and every one of us. And for many, it's been the most difficult year of your lives. While 2020 has thrown a lot at all of us, I know that through unity, perseverance, and solidarity, we are ready to tackle anything that comes our way in 2021.
I would like to express thanks to all the Machinist members who are working during the holidays, keeping North America moving, supplied, and healthy. We are grateful for all you do.
Lastly, as lovely as the holidays can be, they can also be difficult for many. Whether you're dealing with grief, anxiety, depression, substance abuse, or stress, please know you are not alone. The IAM's EAP and Addiction Services Program stands ready to assist members, staff, and their families at all times. Please reach out if you or your family members are struggling.
Hang in there Sisters and Brothers, there are brighter days ahead for you, your families, and the Machinists Union.
May the holiday season end this year on a cheerful note for you and your family and make way for a fresh and bright 2021.
In Solidarity,
Local Lodge 104