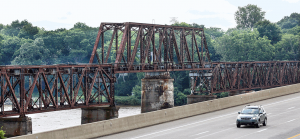 The Wood County Port Authority, which acquired what was once the Toledo Terminal Railroad's Upper River Bridge five years ago from CSX Transportation, says engineering studies have determined the rusting, 114-year-old hulk to be so unsound that it can't be renovated for use as part of a bicycle and pedestrian trail along abandoned sections of that railroad.
"It appears that the costs, uncertainties, and future maintenance issues with rehabilitating the existing structure make it the least desirable alternative," Claude Brown & Associates, a Toledo-based engineering consultant, wrote in a March, 2012, report to the port authority.
That recommendation echoed one issued two years earlier by Tim Keller, administrator of the Ohio Department of Transportation's Office of Structural Engineering.
"The existing structure has fallen into such poor condition that the magnitude of the effort required to restore the bridge to a safe level of service is not [a] feasible and prudent alternative," Mr. Keller wrote.
Inspection reports describe extensive rust and section loss throughout the steel spans, rivets that have fallen out or are so corroded that they disintegrate when touched, and chunks missing from its concrete piers.
"The majority of the outer surface of the piers that has not fallen away is not sound concrete," the Lucas County Engineer's Office wrote in a report from a 2002 inspection conducted on behalf of the Toledo Metropolitan Area Council of Governments. "Voids are visible between the outer surface and the body of the piers. The concrete behind the outer surface appears to be segregated and crumbling."
Several reports also discussed options for building a replacement bridge to carry what is now known as the Chessie Circle Trail over the Maumee, but for now only demolition is proposed because of a new bridge's cost.
"This issue is finding funding for it," said Christine Connell, a public administration specialist with TMACOG. "We have a long list of projects for which we have not identified funds."
Rex Huffman, the Wood County Port Authority's legal counsel, said that while the bridge might be able to support the weight of a lightweight platform suitable for people walking or on bicycles, a trail bridge of that length needs to be robust enough to support emergency vehicles.
Ed O'Reilly, chairman of the metropolitan council's bicycle-pedestrian committee and that committee's representative on a coordinating committee for the Chessie Circle Trail, said he of all people would prefer to reuse the 1902-vintage bridge if possible, as he's a railroad-history enthusiast as well as a bicyclist.
But with restoration cost now estimated between $9 million and $10 million, compared with $7 million for a new bridge, plus higher costs to maintain a century-old structure afterward, the price to save it is just too high, Mr. O'Reilly said.
"Is it savable? Absolutely, but at what cost?" he said. "I feel terrible, but I believe it's the right decision [to raze it]."
Federal funding used to buy Toledo Terminal right-of-way for the Chessie Circle Trail's development includes a condition that the full trail, including a link between Lucas and Wood counties, be available for public use by 2031. A detour to the Maumee-Perrysburg Bridge will fulfill that requirement in the interim, Mr. O'Reilly said.
Mr. O'Reilly said his goal for the existing structure is to document it thoroughly and preserve its center swing spans, which an ODOT report declared were the only part of the bridge that qualifies for historic status.
ODOT's Office of Environmental Services reported in 2009 that the swing spans, but not the five spans on either side leading up to them, were Register-eligible "as a surviving example of an uncommon type of bridge technology."
While designed to be able to open for tall-masted vessels, the ODOT report noted that no such openings are known to have occurred, and no evidence exists of any motors or controls on the structure. The parallel turnpike bridge's construction in the early 1950s rendered such capability moot.
But it's the swing spans, which are actually a single, double-cantilevered structure of the Pratt truss design, mounted on a pivot, and their associated pier and end rests that are the bridge's "only significant elements" justifying historic preservation, ODOT said.
The bridge-demolition proposal calls for the swing spans to be saved and made available for some sort of unspecified reuse. Even restoring the swing spans alone, and keeping them and the center pier as part of an otherwise new bridge, would cost nearly $6 million, which is more than double the price to salvage them and replace that portion of the bridge with a modern structure, according to a report prepared for ODOT last year by DGL Consulting Engineers of Maumee.
After gaining regulatory approval for abandonment, CSX removed rail and ties from the bridge, but did not dismantle it.
In 2011, CSX sold the structure and other surplus Toledo Terminal right-of-way to the Westside Corridor Coordinating Committee, a consortium of public agencies developing the trail plan, for $6,572,000 in federal funds.