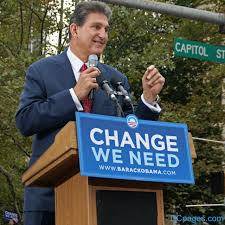 CHARLESTON, W.Va. — U.S. Senator Joe Manchin told MetroNews Sunday afternoon Hillary Clinton still has his support for president despite how former President Bill Clinton, Gov. Earl Ray Tomblin and Manchin himself were received in Logan County Sunday.
"I've always had their (Bill and Hillary Clinton) ear. I've worked with them for 25 years. They've always been there. They've never misled me and they've never told me something that wasn't factual," Manchin said.
Some vocal residents in the Logan Middle School audience made it known how Obama administration policies have impacted the coalfields. They also didn't take kindly to remarks back in March made by Hillary Clinton when she said, "We're going to put a lot of coal miners and coal companies out of business."
Manchin repeated Sunday he's forgiven Clinton for what she said.
"She made a horrible statement. As friends sometimes you misspeak and she misspoke, but then she came back and made an apology. I still believe that she's the one that can help us transition, help people get new jobs, bring industry there," Manchin said.
West Virginia Republican Party Chairman Conrad Lucas thanked what he called the "peaceful protesters" for showing up in Logan.
"It was telling when Logan's Mayor asked for Clinton not to come to Logan. It was clear when elected Democrat officials stayed away from the event in droves. And it will be far more lonely for the coal haters this fall at the polls when thousands of former Democrats join our team at the polls to reject decades of losing brought to West Virginia by their former Party and this President," Lucas said in a prepared statement.
During his visit to the state capitol, Clinton took time to explain his wife's plan to help coalfield communities that she announced last November.
Manchin said he was not surprised by the charged atmosphere at the Logan County event.
"People are hurting we know that. His people (President Clinton's) said 'We shouldn't go down' but he said, 'I want to go down,'" Manchin said. "The easy thing would have been to avoid it."
Hillary Clinton is scheduled to be in Mingo County Monday afternoon.