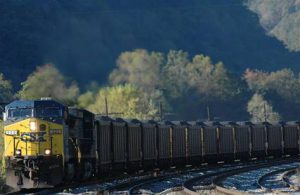 CSX's Coal team, in collaboration with partners from various CSX departments, won two new contracts to move utility coal in the coming year.
Alabama Power and Gulf Power, two plants that are subsidiaries of Southern Company, signed on with CSX in late 2016. Both were previously served by competitors.
Scope of the Deal
"We were in head-to-head competition for Alabama Power," said Mike Bullock, director-Utility Coal. "Although Norfolk Southern and CSX currently use a third party to provide service, NS is in a better position to serve the plant in Gaston, Ala., since CSX must traverse NS's main line that runs through the plant."
Meanwhile, CSX had no part of the business to the Gulf Power plant in Pensacola, Fla., for several years. However, the coal team worked a deal to move tons of coal from the Illinois Basin to Mobile, Ala., from which the coal is barged to Gulf Power's Crist plant in Pensacola, Fla.
The Alabama plant will receive approximately 80 140-car trainloads of coal annually over the next two years. The Florida plant will receive more than 40 140-car trains for the 15-month term.
"This new business is in line with our strategy to run longer trains," Bullock said. "That makes it even more gratifying to capture these pieces of business, especially at a time in the coal industry when its members have been shutting down plants and the pool of opportunities is getting smaller.
"The new business also increases utilization of our new Casky inspection yard in Hopkinsville, Ky. Casky is being used to stage trains for inspection and fueling, providing more efficient rail service to the Illinois Basin coal region and to Alabama and Gulf Power."
Several employees supported the Coal team in capturing the new business, including Bob White, assistant vice president-Coal/Bulk Operations and Mike Hawkins, director-Distribution, Coal Operations, Jason White, director-Merchandise Design, members of CSX Finance and the Transportation Divisions.
Coal long led the way as the chief commodity transported by CSX. Times have changed, and although the decline of coal is well documented across the U.S., as of August 2016 about 7,600 power plants in the country still use coal to generate electricity. Those plants make a significant contribution to the energy needs in their regions. For its part, Alabama Power serves 1.4 million homes, businesses and industries in the southern two-thirds of Alabama. Gulf Power serves nearly half a million customers in Northwest Florida.
"We are proud to supply the rail transportation needs in support of the coal industry in areas where its power generation plants continue to operate," said Bullock. "We will continue to look for opportunities in coal as it aligns with our CSX of Tomorrow strategy."