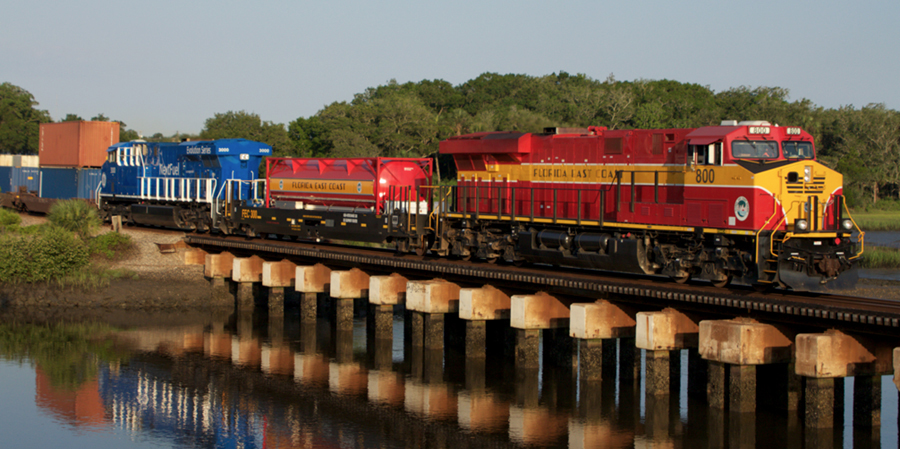 On October 13, 2016, it was reported by Bloomberg that Fortress Investment Group LLC, (FIG) was looking to sell Florida East Coast Railway Corporation, (FECR). Not much information was provided aside from Barclays and Morgan Stanley being involved in an advisement role, and the fact that Florida East Coast Industries, Inc. (FECI), the holding company of FECR was taken private in 2007 by funds managed by Fortress in a transaction valued at around $3.5 billion.
Since this deal, the fund has spun off the railway operations into a separate company, (FECR), leaving the real estate, logistics and telecommunications assets under the FECI umbrella. It is unclear as to the portion of valuation specifically tied to FECR
.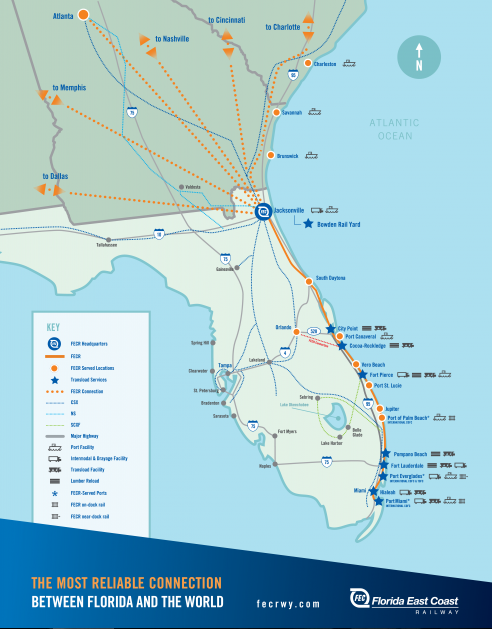 FECR is a 351-mile freight rail system located along the east coast of Florida, and is the exclusive rail provider to South Florida's seaports and connects with other railway systems to move freight throughout the country. Services provided include intermodal and carload solutions. As part of the state of Florida's goals to increase competitiveness, FECR has partnered with the Port of Miami in substantial project developments for the FEC Rail Reconnection Project, including:
Reconstruction of the FECR, port lead,
rehabilitation of the bascule bridge that connects the Port of Miami and FECR,
construction of an on-port rail facility, and
modifications to FECR's rail yard to accommodate the increase in intermodal traffic.
In addition to these partnership projects, the Port of Miami has implemented the Miami Access Tunnel and the 50-foot dredge projects. The anticipation for the state of Florida and specifically, the Port of Miami has been to capture diverted traffic for container shipping lines from the Panama Canal's new locks, which opened this past June.
The first couple of months after the Panama Canal locks were opened in late June have yet to yield expected growth estimates. Laden imported twenty-foot equivalent container units, TEUs were down nearly five percent. Laden exported TEUs were down nearly seven percent.
Regardless of FECR's initial performance for TEUs, both CSX (NYSE:CSX) and Norfolk Southern (NYSE:NSC) will aggressively compete for the purchase of these rail assets. CSX has substantially stronger coverage for the state of Florida versus Norfolk Southern.
But both Class I's are solely dependent upon FECR for access to the Port of Miami and Port Everglades. These two ports combined for nearly 70 percent of the top three seaport TEUs during 2015, which represented nearly three million TEUs.
To put this into perspective, these three seaports in Florida if combined would rank sixth in North America behind the ports of Los Angeles and Long Beach, New York and New Jersey, Savannah and the Northwest Seaport Alliance, NSA, representing the ports of Seattle and Tacoma. As port consolidation has evolved, the state of Florida has looked to compete as a unified region rather than internally amongst itself.
For either CSX or Norfolk Southern, adding 351 miles of rail assets between the Port of Miami and the Jacksonville Port Authority, would be a tremendous value for multiple commodities. But the real value would be associated with both international and domestic intermodal traffic growth. In addition to providing exclusive access to Florida's top two seaports by TEU traffic, the 351 miles of rail assets includes eight transload service locations offering domestic intermodal conversion.
The most recent deal we have to gain some perspective for a price tag was the recent acquisition of Providence & Worcester for nearly $130 million by Genesee & Wyoming (NYSE:GWR). This also highlights the fact that Genesee & Wyoming would likely join the bidding war for FECR.
Providence & Worcester owned less than 165 miles of track with top customer commodities including chemicals and plastics, construction aggregates, metal products and automobiles. However, Providence & Worcester generated $36 million in trailing twelve-month revenue as of June 2016. The geographic service area for owned track miles was within Massachusetts, Rhode Island and Connecticut representing a 2015 estimated population of nearly 11.5 million.
For FECR, the state of Florida's estimated population for 2015 was nearly 20.3 million. With strong coverage of South Florida's population and nearly 800,000 laden import and export TEUs coming through Miami alone, FECR's overall carload and intermodal traffic demand and more than double owned track is assumed to be substantially larger than a company like Providence & Worcester.
This would likely place the value of FECR somewhere between $400 to $650 million. Depending upon the initial premium, combined with potential increases to this premium from multiple bidders, and FECR could fetch a price tag as high as $1 billion.
But the wrinkle in all of this would be the competitive advantage that either CSX or Norfolk Southern would gain against the other if one were to win out. Review of any merger between rail operators would involve the Surface and Transportation Board, STB and the Federal Transportation Commission, FTC and Department of Justice, DOJ.
Based upon the Hart-Scott-Rodino Act, HSR Act, I would not think that either the FTC or the DOJ would rule against a deal for either CSX or Norfolk Southern, assuming that there was some sort of agreement with which both Class I's would have access to the South Florida region. I would think that the STB would be more involved in determining whether or not it would be better for FECR to be acquired by a separate operator such as Genesee & Wyoming, or another third party such as a private equity or infrastructure firm.
Allowing either CSX or Norfolk Southern to acquire ownership of the entire 351 miles of track would necessitate the allowance for the losing party to have access via trackage or haulage rights. But one could argue that this would be better organized through an independent third party owner.
Genesee & Wyoming has grown recently by an acquisition strategy, which included the recent large merger with Freightliner Group Limited for nearly $770 million. Currently, the company had only $25 million in cash and around $2.1 billion in net debt. The company could still enter into a bidding war for FECR, but would likely see its debt to capital and debt to EBITDA ratios increase to higher levels.
The remaining borrowing capacity available to Genesee & Wyoming is estimated to be around $542 million as of June 2016. This would not leave much room for another deal above $500 million unless the company was able to increase its capacity.
Both CSX and Norfolk Southern had cash of $755 and $866 million. Both companies had $9.8 billion and $8.7 billion in net debt respectively. Either Class I could very easily acquire FECR with a substantial cash contribution and/or through leverage. Impacts to leverage ratios would be much more minimal as well.
The fact that FECR is going to be up for sale is a very important circumstance for both CSX and Norfolk Southern. Investors with exposure to either stock should continue to monitor the progress of a deal. Investors should look for any news regarding borrowing capacity additions for any of the three public companies, especially Genesee & Wyoming.
One could argue that CSX already has a dominant market position within the state of Florida, and that Norfolk Southern should have the opportunity to compete for this portion of available rail assets. But with the amount of TEU traffic currently flowing to South Florida, the remainder of the state and throughout the U.S., it would be hard to see either Class I making out solely with these assets through a deal.