What's working so well for CSX?
CSX is taking measures so that it can continue to deliver more savings and counter the end-market weakness. As a part of this strategy, the company is working to improve the length of its trains.
For instance, CSX is planning to increase the length of its siding through its core operational corridor from Nashville to Cincinnati, which is currently limited to 6,500 feet. Now, last year, CSX had increased its train length to 6,400 feet last year, which means that by increasing the siding length further, it is planning further train length increments.
Once CSX increases the siding length, it will be able to transport higher volumes going forward and that too at lower costs. Moreover, CSX is making infrastructure improvements with its hub and spoke strategy so that it can connect markets with higher volumes. As shown below, CSX is currently focused on connecting the Northwest Ohio and the Carolina hubs by way of a connector to facilitate higher transfer volumes.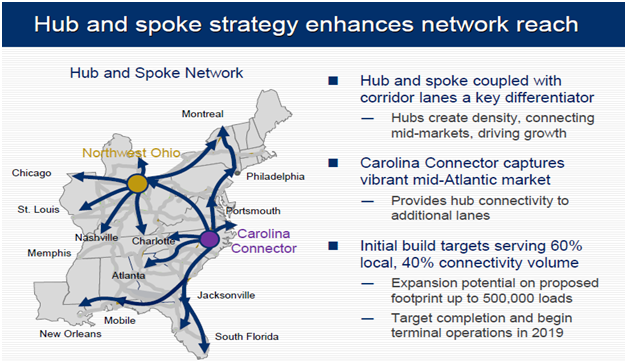 Source: CSX
As seen above, CSX plans to complete this hub by 2019, which will allow it to increase carloads to 500,000 and reduce costs concurrently.
Are the initiatives delivering gains?
More importantly, CSX's efforts to improve its operations are delivering results. For instance, last quarter, the company had recorded efficiency gains of $133 million driven by a combination of initiatives. As already mentioned above, CSX is increasing the train length so that it can transport more volumes and run lesser number of trains.
By doing so, CSX will be able to lower its operating costs since it can transport more volume at a lesser expense. In fact, last year, CSX had increased its train length by around 16% and this initiative is bearing fruit for the company as the chart given earlier in the article shows us. Additionally, CSX has undertaken other moves as well, such as closing facilities with higher costs in the coal business and integrating its division headquarters to reduce operational overheads.
More importantly, apart from these cost improvements, CSX has also brought about other improvements in the business that has led to an increase in efficiency. For example, the company has increased the train velocity and reduced the terminal dwell time by 4% and 6%, respectively, last quarter. By doing so, CSX has effectively brought down the cost of transporting freight since its trains run at a faster speed with lesser stops, thereby improving the on-time performance.
The important part is that CSX's efficiency improvements are delivering results. For instance, as a result of these efficiency gains across its business, CSX's expenses last quarter dropped 12% to $1.9 billion as compared to total expenses of $2.1 billion in the first quarter of 2015. In fact, its labor and fringe costs declined 9% on a year-over-year basis as the company reduced its headcount by over 4,500 last year and by 1,900 in the first quarter of 2016.
These costs reduction moves helped CSX improve its operating ratio by 90 basis points to 73.1 on a year-over-year basis last quarter, and as a result, the company expects its efficiency savings this year to cross $250 million. This is shown below: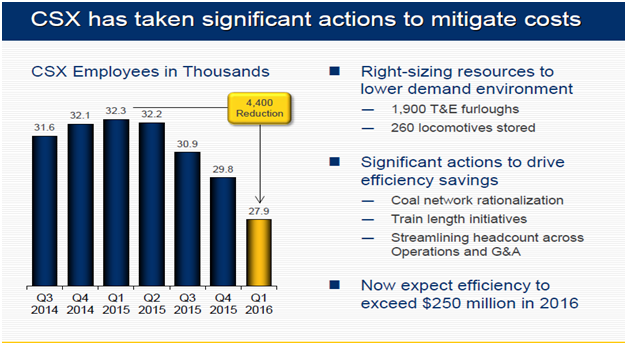 Source: CSX